Residential Design Construction in Kalispell, MT
The design of a home or building says everything about the person who envisioned and designed it. It reflects the inner personality of the designer, as well as the people who work with the designer to create the end result.
Lyndon Steinmetz Design Studio, LLC, provides residential design services in Kalispell, MT, and the rest of Northwest Montana. We can help with your residential design construction plans and bring to life any vision you have for your home.
What to Expect From Residential Design Services
When you plan your home interior and exterior design, you want your home to reflect everything that you have in mind. You need a designer who will listen to your ideas and formulate a plan to get what you want.
Additionally, your designer should ask the right questions, such as what colors you want predominantly in your home interior, what kind of exterior look you are aiming for, and other concerns.
When your design expert sees your vision, you'll be of the same mind working together to create the perfect home.
What to Expect from Lyndon
When looking for the best residential design construction professionals look for the following qualities:
Listens to what is said without judgment.
Has an interest in building the way someone wants it built.
Is not overly opinionated about the choice of style.
Wants to create the design you want.
Works side-by-side with the client so that the client's idea shines through.
Professional Design Services
Have you ever dreamed of having a cabin in the mountains? How about an elegant mansion? Think it can't be done? It can if you have the right residential design company!
In Kalispell, MT, and the rest of Northwest Montana, your source for professional design services is Lyndon Steinmetz Design Studio, LLC. We focus on residential design projects for homes and other buildings and structures that serve a specific purpose. In Montana, there is a lot of rough terrain, such as mountainous regions, rough side roads, occasional flooding from the local waterways, and other unique situations that require a specialized look at the geographical location before building.
Lyndon Steinmetz Design Studio, LLC has years of experience dealing with this type of unique landform and they can devise a plan to help land and property owners reach their goals with their design plans. A design firm exists for the purpose of helping the client achieve their goals with their design ideas. We can work side-by-side with you to reach your building goals with a step-by-step approach to how you want things to look. If we can capture your vision, we can produce the effect you desire.
Our work has been featured in local and national publications for the superior work we have done with our residential design and consulting services. The three decades of dedicated commitment to our customers shows in every project we do.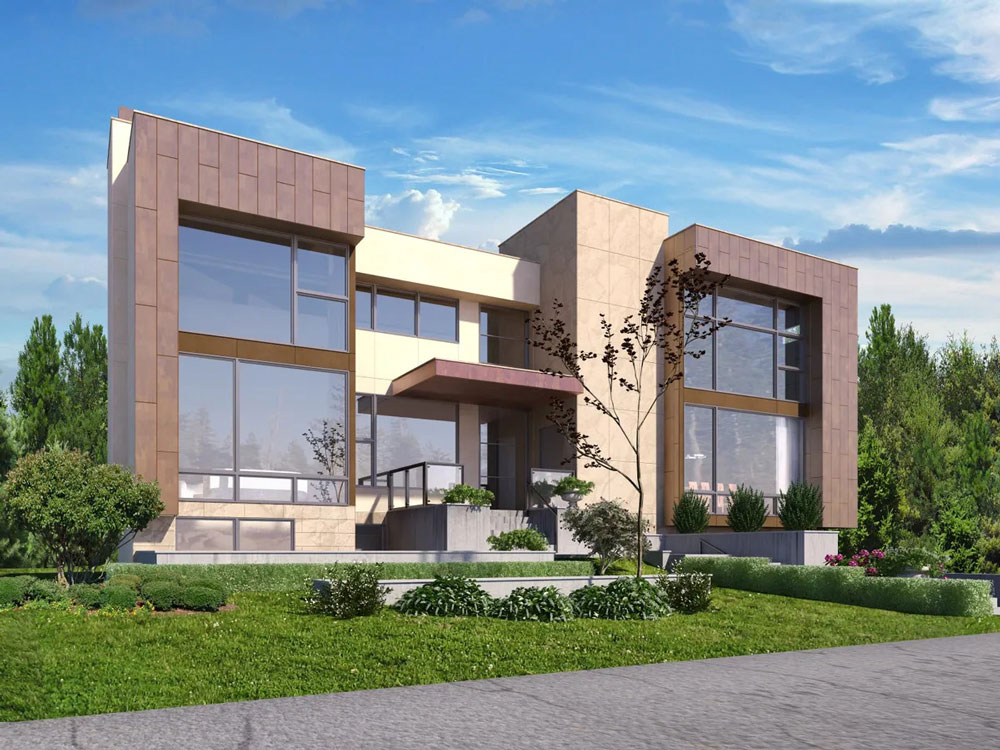 Give Us a Design Challenge
Even if you want a luxurious home in the rugged Montana mountains, we can achieve this. We know the requirements for dealing with the geographical terrain challenges that we will encounter in the wild country. So don't think just because you are building in the wilderness, we can't achieve that beautiful, elegant look you want.
If you need residential design construction for your rustic cabin or a redo of your current home, whatever the case, call us. We will work with you throughout the entire process and help you reach your goals, even if you live in a mountainous region. Building beautiful homes, no matter what the demands of the location, is what we're about. We love a challenge, so don't be afraid to ask!
Awards
The Lyndon Steinmetz Design Studio, serving clients all over Northwest Montana, has been the recipient of the Award of Merit for Single Family Homes given by the Alberta Council in 2015, as well as the De Glacier Village Design Excellence Award in 2001 and Montana Concrete Excellence Award in 1999.
This list of accolades for the Lyndon Steinmetz Design Studio indicates the degree of aptitude and ethics we give to our clients' ideas and how we carry out every step of the job successfully to the client's approval.
In Kalispell, MT, and the surrounding area, you can't find a better partner for your home design needs than Lyndon Steinmetz Design Studio.
Services We Offer
We offer the following design services:
Residential Design Services
Our experts fully understand multiple heating and cooling systems and will do whatever it takes to get them We are a full-service design studio and can handle any job, big or small. Let us brainstorm with you and devise a plan to carry it out. Let us design your dream home!
Residential Drafting Services
We not only dream with you, we build your dream, as well. Our residential drafting services designer, Lyndon, is ready and qualified to handle your ideas and has the know-how to get the plan off the ground.
Set Up a Consultation Today
If you're ready to launch your idea for your dream home, contact us at (406) 257-5463 to set up a free consultation. Contact Lyndon L. Steinmetz at Lyndon Steinmetz Design Studio, LLC. Serving the Northwest Montana areas.
Open from 8 a.m. to 5 p.m., Monday through Friday.
The home of your dreams is waiting.
Proudly Serving
WHITEFISH MONTANA | BIG MOUNTAIN SKI RESORT | Whitefish | Columbia Falls